K口U:
K口U is one of the most organic form of expression on the human body. Provocative in nature and capable of amplifying controversial ideas, K口U is an amplification of our personal ethos expressed provocatively.
Unanimously formed in 2019 upon completing their music endeavours in Europe, K口U aims to revolutionise the average concert-going experience. The one-of-a-kind Singapore-based mixed instrument ensemble refuses to be confined by tradition. Instead, K口U innovates by engaging multiple senses of the audience, allowing one to fully immerse the mind of production.
Since their formation, they have been invited to perform at the Performers(') Present symposium by National University of Singapore, Yong Siew Toh Conservatory of Music and the Kuching Youth Band Fiesta 2019, organised by The Band Lab.
plastiCITY: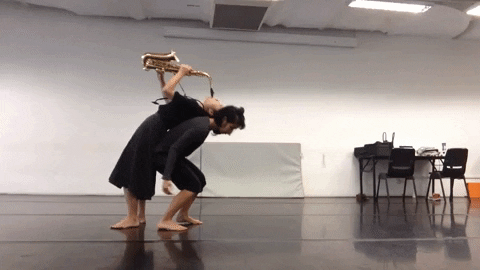 plastiCITY is a inter-disciplinary duo comprising of contemporary dancer, Valerie Lim and classical saxophonist, Michellina Chan. They first met when they studied together at Crescent Girls' School (Singapore), now they find themselves challenging not only gravity but also the conception of audiences towards classical contemporary music and dance. Since their conception in 2015, they have tackled all kinds of non-dance stage floors, discovered new ways to convey music and dance in a non-traditional form and also collaborated with more artists in bigger settings.
Xin Saxophone Quartet: 
A highly versatile chamber group, Xin Saxophone Quartet (XSQ) is one of Singapore's leading professional saxophone quartets. XSQ comprises of Singaporean musicians from different walks of life. Michellina Chan who graduated with Bachelor of Music with First Class Honours from the University of Melbourne, Melbourne Conservatorium of Music, Alexis Seah who graduated with a Bachelor of Music with Honours from the Nanyang Academy of Fine Arts in collaboration with Royal College of Music. Yi Xiang Ang is a regular with the SAF band and also a regular soloist with the Philharmonic Winds. Last but not least, Samuel Phua, a recent graduate of the Singapore School of the Arts, is the first local saxophonist to perform as a soloist with the prestigious Singapore Symphony Orchestra. They are all advocates of supporting music by local composers.
Xin Saxophone Duo: 
Xin Saxophone Duo, a subset of Xin Saxophone Quartet, was formed in 2016 by two leading professional saxophonists in Singapore. Xin Saxophone Duo had their debut on Singapore's influential Mediacorp Channel 8 television program, Star Awards 2016. Notable performances includes performances at the 6th Singapore Saxophone Symposium and at a lecture-recital, at the Nanyang Academy of Fine Arts, entitled Paganini Lost and Found. As a duo, they travelled to Bangkok, Thailand to perform in masterclasses at the Asia Pacific Saxophone Academy 2016. They hope to share their passion for chamber music by making it accessible to all.
Xin Saxophone Duo comprises of saxophonists Michellina Chan and Alexis Seah.
Merism Saxophone Duo:
Merism Duo was co-founded by saxophonists Michellina Chan and Mary Osborn. The duo was conceptualized in 2017 at the 5th Jean-Marie Londeix International Saxophone Competition in Thailand. Both of them finished their BMus in Australia (Melbourne Conservatorium of Music – University of Melbourne and Sydney Conservatorium of Music – University of Sydney respectively) before moving to France to further their studies.
Mary Osborn is a saxophonist from Sydney, Australia currently studying with Vincent David in Versailles, France. She dedicates her time to working with composers in creating new works, managing her award winning saxophone quartet, Petrichor Sax, and creating arrangements of a wide variety of works. Mary has premiered over 20 new Australian works for Petrichor Sax, and for solo saxophone including a concerto, Oil, Steam and Steel by American/Australian composer Adelaide Coles. Petrichor Sax won 1st prize in the Sydney Eisteddfod Musica Viva Chamber Music Award in 2014, and became the first saxophone quartet to ever win the competition. Mary has received success in many national and international competitions, in 2016 she won 4th prize in the Andorra Sax Fest Saxophone Soloist Competition, in 2015 she won 3rd prize in the Gisborne International Music Competition, and in 2014 she won 1st prize in the Sydney Eisteddfod McDonalds Saxophone Competition in 2013 and 3rd prize in the Singapore Woodwind Festival Saxophone Competition. Mary has arranged many works for saxophone including works by Brahms, Schumann, Shostakovich, Ravel and her arrangement of the Tallahatchie Concerto by Jacob Ter Veldhuis was published in 2016.
Find Michellina's bio here
News
Nanyang Academy of Fine Arts – Singapore Saxophone Symposium 2018
https://www.nafa.edu.sg/events/singapore-saxophone-symposium-2018
Thomaskerk (Amsterdam) – CvA Sax
https://www.thomasopen.nl/index.php/agenda/evenement/82-cva-sax
Melbourne International Saxophone Festival 2018 – Merism Duo
http://www.melbournesaxophone.com/take-flight/
Conservatoire de Bordeaux Jacques Thibaud – Orchestre d'Harmonie du Conservatoire

Esplanade Theatres on the Bay – Xin Saxophone Quartet
https://www.esplanade.com/festivals-and-series/cool-classics/2017/xin-saxophone-quartet
Jurong Junior College – Alumni Spotlight
http://jurongjc.moe.edu.sg/partners/alumni/alumni-spotlight/
The Talent Season 3, Finals Performer
Finals Performer | Michellina Chan
https://3mbs.org.au/podcast/talent-series-3-finals-ep-3/
The Band Post – Xin Saxophone Duo in Concert
http://www.thebandpost.com/2017/07/xin-saxophone-duo-michellina-and-alexis/
Pianomania, Review of Paganini Lost and Found at NAFA
http://pianofortephilia.blogspot.com/2016/09/paganini-lost-and-found-lecture-recital.html
2016 CLASAX Performance Competition Results
https://www.clasax.org/uncategorized/2015-clasax-performance-competition-results/
Singapore Woodwind Festival 2014 – Competition Results
http://sgwoodwindfestivalor.ipage.com/sgwf-2014-competition-results.html